Music
Larry Cordle Reviews Bluegrass Outlaws Debut Project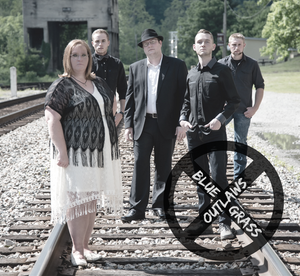 Bluegrass Outlaws
Self Titled Debut Album
Released September 5, 2016
Reviewed By Larry Cordle
I knew it was gonna be great! That's the 1st thing that comes to mind after listening to the Bluegrass Outlaws new release.
Having been a long time fan of Becky's, I was expecting nothing less from her, but I had no idea that she and her husband Chris Monk had put together such a tight, melody driven, harmony singin', songwriting band. WOW! I've been completely taken by surprise.
Though I do not know the rest of the group as well as Becky, in there coming together, they have a cohesiveness that sounds like they've been recording together for years. Something obviously not overlooked by the fans at SPBGMA, where they took the 2016 honors for the best new band. And get this...they debuted as a band there and were on stage as a band together for the 1st time and WON! That's gotta be a record of some sort!
My curiosity tweaked after a first listen, I began to dig deeper into the material the Bluegrass Outlaws had chosen to record…. There's always a story behind the record.
I first noticed that there were several titles on here that I was not familiar with...no wonder they're original and they are flat out good. Here's what else I found.
"No Regrets" written by Becky Webb Monk, who sings the lead, has a bluegrass "take this job and shove it" attitude. Fed up worker moving on to a different life. Who hasn't felt that way?! Hard driving banjo and great support. Great vocal.
"Another Rainy Monday" written by Evan Maynard who also sings lead here, is the story of a singer who is in his glory on the weekends but once the laughter and music fades, always finds the blues on Monday when he must move on without any real stability or real love in his life….really good song and honest delivery.
"Raging Storms" written by Becky Webb Monk, who has the lead vocal duty here, is a miner-driven disaster song, no doubt inspired by past and recent history of floods in Becky's native West Virginia. Bluegrass has always had songs telling of these disasters and their effect on people. This is another good one.
"Timbercove" written by Chris Monk is a hard driving banjo instrumental but very melodic as well. Great tune with great support from the rest of the band. Starred as one of my favorites.
"God's Watching Over You" written by Becky Webb Monk is the story of a young lady who picks up an old man going down the road who tells her "God's Watching Over You" in everything you do….some wisdom he must feel she needs or he wants her to hear. Delivered in that great Appalachian voice of Becky's that sounds just like she talks….I love that.
"Down The Road" written by Lester Flatt and Earl Scruggs. Here's one we all know, a Flatt & Scruggs standard that the "Outlaws" have given a new look at with new chord changes...interesting.
"Tennessee Blues" another well known song written by Bobby Charles and delivered here by guitar player Wesley Wolfe...fans of this song will enjoy Wesley's honest, straight-forward delivery and the great harmonies.
"Upper Big Branch Mine" written by Becky Webb Monk, her husband, Chris Monk, and her brother, Darrell Webb. I have this song starred as one of my favorites on the CD. Stories of the mines, miners, their lives and sufferings have always been amongst my favorite Appalachian themes and I tell you folks, they got this thing right and it is delivered with such honesty and emotion….GREAT! In my opinion…
"Tall Pines" written by Damon Black and one we'll all know well but I love this version. As a fan of the song, it always takes me back to my own childhood when I hear it. Becky delivers it here again in that great Appalachian soaked voice that I think makes it even more poignant and soulful...I never get tired of their version of "Tall Pines", another of my favorites from the CD.
"Ring on the Table" written and sung by mandolin Evan Maynard….cheatin' wife, murder, regret that he didn't kill 'em both...what's not to like? I love this track and the song...we can't have enough good cheatin'/killin' songs after all. LOL!
"Scarecrow" written by Kevin Denny and Tom Botkin. We've all got favorites on CD's that we listen to over and over...this would be mine from the project. So poignant with an air of sadness that highlights Becky's great delivery with that chilling Appalachian voice standing out so starkly that I can see the subject so vividly. I love this track...SO good!
"Straight & Narrow Way" written and sung by Mrs.Becky Webb Monk is another of my favorites. Hard driving bluegrass gospel, great message, great pickin' and singing...it's another standout to me.
Well folks, that's my look at the CD and while I realize these musings are just one man's opinion, I believe that these folks, if they can navigate the tough waters that lay before them in the days ahead, are destined for really BIG things in the bluegrass world. I urge you, as you listen to this great CD, to let your local radio stations know that you are passionate about the music inside these grooves….after all you are the final judge. 

God Bless….Larry Cordle, Nashville, TN